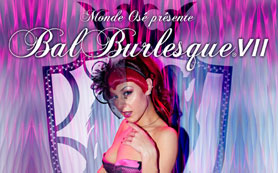 LE 7ÈME BAL BURLESQUE APPROCHE!
Please Note: English follows BELOW
Beauté, féminité et élégance… 3 mots pour décrire le premier évènement Monde Osé de 2012!
Pour une 7ème année consécutive,
Monde Osé présente
LE BAL BURLESQUE®L'évènement de Montréal le plus complet en sensualité marriant un ménage à trois de perfection:
Une soirée dansante excitante, la clientèle la plus sexy et osée en ville et des performances de classe mondiale incluant:
Votre chance de voir en personne,
LA REINE INTERNATIONALE DU BURLESQUE et MISS EXOTIC WORLD 2010
ROXI DLITE
Roxi effectuera pour la première son tout nouveau spectacle, parfaitement créé pour le thème de cette année:
LE PUSSYCAT ROOM
Le Pussycat Room est l'endroit où Monde Osé célèbre les femmes, leur beauté et leur féminité!
Cette année nous retournons dans la demeure du Bal Burlesque, Le Lion D'or mais cette fois-ci avec 2 salles VIP additionnelles pour vous permettre une expérience lounge plus intime avec de nouveaux amis!
Achetez vos billets DÈS MAINTENANT puisque nous risquons de vendre tous les billets dû à l'énorme popularité de Monde Osé cette année au Salon de l'Amour et de la Séduction.
Ceci est une soirée pour membres seulement. Les membres peuvent inviter et acheter des billets pour des amis appropriés.
NE MANQUEZ PAS CETTE EXPÉRIENCE INNOUBLIABLE. CE SERA À RONRONNER DE PLAISIR!
———————————————————————————————
Beauty, Femininity and Elegance…3 words to describe Monde Osé's first event of 2012.
For our 7th consecutive year,
Monde Osé presents
The BURLESQUE Ball®
Montreal's most complete sensual event marrying a threesome of perfection:
An amazing dance event, the sexiest and most daring clientele in the city and world class performances including:
Your chance to witness, in person,
THE INTERNATIONAL QUEEN OF BURLESQUE and MISS EXOTIC WORLD 2010
ROXI DLITE
Roxi will be debuting her newest act, perfectly created for this year's theme:
THE PUSSYCAT ROOM.
The Pussycat Room is where Monde Osé celebrates women, their beauty and femininity!
This year we return to the home of the Burlesque Ball, Le Lion d'Or, but with 2 additional sexy VIP rooms for you to have a more intimate and loungy experience with your new friends!
Get your tickets NOW, as this event will surely sell out due to Monde Osé`s popularity at this year`s Salon de l'amour et de la seduction.
This is a Member's only party. Members can invite and purchase tickets for appropriate friends.
Don't miss this amazing EXPERIENCE. It will be Purrrrrfect!