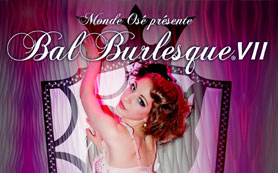 Bal Burlesque OFFRE SPÉCIALE Souper et Hôtel
Please Note: English Message follows BELOW:
Seulement 3 semaines avant la 7ème édition du Bal Burlesque de Monde Osé mettant en vedette la reine internationale du Burlesque Roxi Dlite.
2 offres spéciales pour vous:
#1 Réservation d'Hôtel
Si vous aimeriez réserver une chambre d'hôtel, Monde Osé a arrangé un prix corporatif avec notre hôtel partenaire:
Des suites à partir de 139$/nuit
Inclut:
Une tournée de drinks à la réception
Petit Déjeuner Complet
Pour réserver appelez :
514 288 8886 ou sans frais au 1 800 362 2779
Référence: Bal Burlesque VII ou Monde Osé
#2 Pour ceux qui aimerait un souper au Petit Extra (le restaurant connecté au Lion D'Or) nous réserverons une salle spéciale et organiserons un souper de groupe à 20h00.
$35+taxes
Inclut:
Entrée
Plat Principal (3 plats au choix)
Dessert et Café
Pour réserver appelez :
(514) 527-5552
Référence: Le Bal Burlesque VII
———————————————————————-
Only 3 weeks to the 7th edition of the Monde Osé Burlesque Ball featuring the International Queen of Burlesque Roxi Dlite.
Get your tickets right away. Don`t wait until the last minute, and avoid disappointment when it sells out!
2 special offers for you:
#1 Hotel Reservations
If you require hotel reservations, Monde Osé has set up a corporate rate at our partner hotel
Book online
Suite starting at $139 / night
Includes:
A round of drink's at the manager reception and
Full breakfast
To reserve call:
514 288 8886 or toll free at 1 800 362 2779
Reference: Bal Burlesque VII or Monde Osé

#2 Supper Reservations
For those of you who would like to include dinner at le Petit Extra (the restaurant connected to the Lion d'or) we will be reserving a special room and organizing a group meal at 20h00.
$35+taxes
Includes:
Appetizer
Main course (3 courses to choose from)
Dessert and Coffee
To reserve call: (514) 527-5552
Reservation Reference: Le Bal Burlesque VII