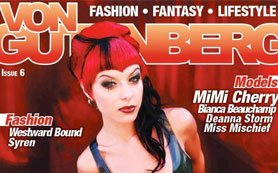 MiMi Cherry becomes a Cover Girl for Von Gutenberg Magazine
Monde Osé would like to congratulate MiMi Cherry for her first cover of Von Gutenberg Magazine.
MiMi Cherry has been working with Monde Osé for just over 2 years. In that time she made her stage debut at the 2009 Burlesque Ball and continued to mesmerize her audience at the 2009 Bal Erotique – Sweet Dreams, where she showed her kinky side with her Polymorphe Latex Black Cat Show! MiMi Cherry has become Monde Osé`s most experienced and popular performer and showcased her talents, beauty and charm at many Monde Osé events including The Monde Osé Ball – Imagine and the Eastern Canadian Tour of the Everything to do with Sex Show for 2 years.
Since then MiMi received North American acclaim and has performed at all the major Fetish events in North America including:
Kink in the Caribbean
The Von Gutenberg Fetish Ball
Fetish Factory
Torture Garden
Rue Morgue Halloween Ball
With the cover of Von Gutenberg Magazine and her impressive list of performances, MiMi Cherry is now OFFICIALLY one of the top neo burlesque é fetish performers in Canada .
Once you enter her world, she will leave you mesmerized and wanting more.
Von Gutenberg Magazines, the number 1 in Fashion, Fantasy & Lifestyle, published quarterly we show the best in alternative lifestyle fashion, news and models.
Von Gutenberg Issue 6 now available with Cover Girl MiMi Cherry and Bianca Beauchamp and one the the finest selector items yet in the Von Gutenberg Series of Collector Magazines.
Our biggest, brightest and boldest issue yet, Von Gutenberg Magazine #6 begins the new year with a generous "squirt" of lube, the high retort of snapping latex and just that perfect combination scent of sweat rising off of leather. This being our comics issue we feature the artistry of Chainsaw Chuck, Armando Huerta and Ed Mironiuk once again, designers Westward Bond, Syren and so many others featuring their fantastic and sometimes fantastical frockery and of course our usual array of gorgeous models.