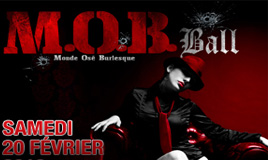 MOB BALL Show Descriptions and Times
HORAIRE DES PRESTATIONS DU MOB BALL
Voici l'horaire et la description des prestations du MOB BALL:
Ouverture des portes: 21h30
22h45
Betty Wilde dans: "Cabaret corrompu"
Betty Wilde donne le ton à la soirée lors de son aventure dans un monde libertin et corrompu.
23h45
Mimi Cherry dans: "Rien ne peut m'arrêter"
Contemplez Mimi Cherry alors qu'elle travaille fort à devenir la favorite du Parrain.
23h50
Bon Bon Bombay dans: "Ensemble jusqu'à la mort"
Bon Bon Bombay vous offre une performance unique et stupéfiante. Elle s'inspire d'une prestation présentée en 1930, qu'elle adapte à son style et qui représente parfaitement l'esprit du Bal Burlesque Monde Osé. N'oubliez-pas, une fois dans les bras de la mafia, elle vous suivra jusqu'à la fin!
Bon Bon Bombay, de Vancouver, est la gagnante du Festival Burlesque de Montréal 2009.
00h45
Ms V et Madria dans: "L'aube d'un nouveau jour"
Une nouvelle journée commence… Ms V et Madria célèbrent "l'exécution" de leur plan parfait.
00h50
Eva Sins dans: "L'appât du gain"
Eva Sin se "positionne" en vue de devenir la nouvelle flamme du Parrain.
———-
MOB BALL SHOW DESCRIPTIONS AND TIMES
Here are the descriptions and times for the MOB BALL SHOWS:
Doors open: 21:30
22:45
Betty Wilde in: Showgirl Gone Bad…
Join Betty Wilde in her descent into "corruption and naughtiness" as she sets the tone for the rest of the night.
23:45
MiMi Cherry in: In for the Kill
Enjoy MiMi Cherry as she sets her sights on being the Godfather's top attraction
23:50
Bon Bon Bombay in: Until "Death" Do We Part!
Bon Bon Bombay offers our guests a performance like nothing they have seen before. Inspired by a 1930 performance, Bon Bon revitalizes this act and adapts it to her own personal style, one which matches perfectly with the Monde Ose Burlesque Ball. Remember, once you are "married to the MOB, you take it to the grave!"
Bon Bon Bombay is an up and coming performer from Vancouver, and the winner of the 2009 Montreal Burlesque Festival.
00:45
Ms V and Madria in: A New Day, A New Don
Be part of the first moments of this new day, as MsV and Madria celebrate the "execution" of their perfectly planned scheme.
00:50
Eva Sins in: GREED – a LUST for Money.
Watch as Eva Sins "positions" herself to be the Don's newest showgirl.