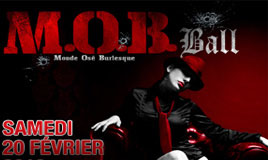 M.O.B. BALL UPDATE
[ENGLISH BELOW]
Bonjour à tous,
Plus que quelques jours avant le 5e Bal Burlesque Monde Osé, événement annuel intitulé cet année M.O.B. Ball.
Veuillez noter qu'il s'agit du dernier événement à grande
échelle de Monde Osé, avant le Bal Érotique qui aura lieu à la fin de l'été. Profitez donc de l'occasion maintenant!
Des billets sont encore disponibles, mais je vous suggère de faire vite car il s'agit d'un événement à capacité limitée.
Cet événement s'adresse aux couples, femmes seules et hommes accompagnés seulement!
Les jeans ne seront pas permis, il s'agit d'un événement haut-de-gamme.
Ceux qui désirez réserver une table pour service de bouteilles, envoyez-nous rapidement un courriel à info@mondeose.com. Les réservations de tables sont TRÈS LIMITÉES.
Achetez vos billets en ligne à:
http://mondeose.com/index.php/Single-Pages/Event-Tickets-Members
Ou chez Il Boléro.
Pré-vente: $40 / personne
Porte (si disponible): $55 / personne
Les portes ouvrent à 21h30.
———–
Hello All
Only a few days before Monde Osé's 5th annual Burlesque Ball, this year entitled the M.O.B. Ball.
Please take note that this will be Monde Osé's last BIG event until the Bal Érotique to be held at the end of Summer, so take advantage of this final opportunity now.
Tickets are still available, but i suggest you purchase them ASAP as there is limited capacity to this event.
This event is for couples, single females and accompanied men only!
No Jeans will be permitted as this is an upscale event!
For those of you interested in reserving a table for bottle service, please email us immediately at info@mondeose.com. Table reservations are VERY LIMITED.
Purchase your tickets online here :
http://mondeose.com/index.php/Single-Pages/Event-Tickets-Members
Or at Il Bolero.
Pre-sale : $40.00/person
Door (if available) : $55.00
Doors open at 21h30
Best regards
The Monde Ose Crew
Peace, Love and Sensuality!
xoxooxoxoxoxooxoxooxoxoxo