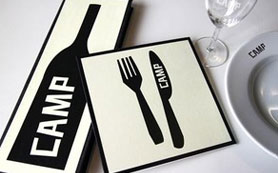 Monde Ose Entertainment at the opening of CAMP resto-bar
À l'occasion de l'ouverture de CAMP resto-bar, Luc Lortie et Benoît Syrkos souhaitent votre présence pour une soirée des plus festives. Bouchées et cocktail à volonté!
Jeudi le 6 mai 2010 Monde Osé Entertainment aura l'honneur de fournir le divertissement à l'ouverture officiel de ce nouveau resto-bar branché. A cette occasion, MsV sera l'hôtesse de la soirée, Mimi Cherry, Madria, Betty Wilde et le duo de feu Mystika séduira le public avec de l'animation et des spectacles de feu.
Venez découvrir le design tendance signature de Christian Bélanger et la cuisine savoureuse du chef David Mineau.
Venez-vous à nous joindre pour un verre et des petites bouchées.
Also, check out the article featured in Examiner.com, Toronto
HERE