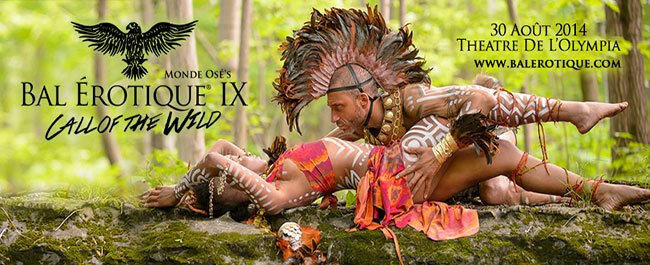 Monde Ose offers
With less than a month until the Bal Érotique. Monde Osé suggests you various ways of enjoying your evening, in addition, check out our special partner offer to help you save!
VIP Table
Would you like to make your night even more special?
Reserve one of our VIP tables directly on the dance floor.
Each ticket admits six people
Two standard 40 oz bottles or two premium 26 oz bottles
One Monde Osé gift pack
SKIP the line priority access
All of this for only 850$
Make your reservation NOW

*If you want a table but have already bought your tickets for the Bal Érotique, send us a request to the address below.
It will be our pleasure help you. 
info@mondeose.com
Special Offers

Exclusive offer for the tickets holders of the Bal Érotique: Call of the wild
Until August 30th, 2014, by presenting your ticket, obtain a 25 %  discount at Atamé aphrodisiac restaurant.

Boutique Séduction offers 15% off on all your regular price purchases when you present your Bal Érotique tickets at the cash.

This year, the official after party will be held at Circus afterhours. To continue your sexy celebrations , the theme will be Erotic Circus.
Two ticket prices are offered:
For Bal Érotique attendees: $15  
Regular price: $40
We'd like to remind you that tickets are still available.
Buy NOW

Vous pouvez également acheter vos billets à la Boutique Séduction et tous Boutiques Romance

Tickets can also be purchased in store at Boutique Séduction and all Romance Boutiques.
https://www.facebook.com/mondeosegroup
COMMENT+LIKE+SHARE
Here's the current prize list:
1 overnight stay in a suite at Le Fabreville 

2 tickets for the Bal Érotique 2014
2 tickets for the Salon de l'amour et de la Séduction 2015
1 gift bag from Boutique Séduction
1 latex handbag from Polymorphe
1 lubricant bottle from Divine 9
1 box of condoms from Crown
1 box of condoms from Beyond 7
1 haircut from Garçons Sculpteurs
We will announce the winner this Friday.
Invite your friends to participate!