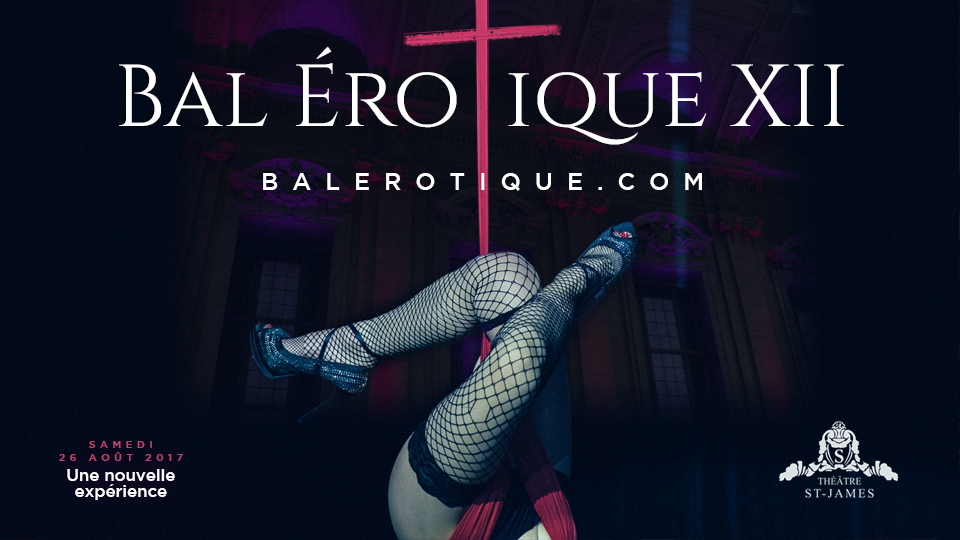 Bal Érotique XII
An all new experience is about to strike Montreal this Fall, presenting the 12th edition of the renowned Bal Érotique; North America's no.1 amorous extravaganza of all time.
This year we have lifted our standards to offer an unprecedented event for the love of eros – erotic love. 
On Saturday, August 26th, at the luxurious St-James Theatre in Old Montreal. Monde Osé welcomes you to an audacious fantasy land of endless possibilities… Your wildest dreams come to life!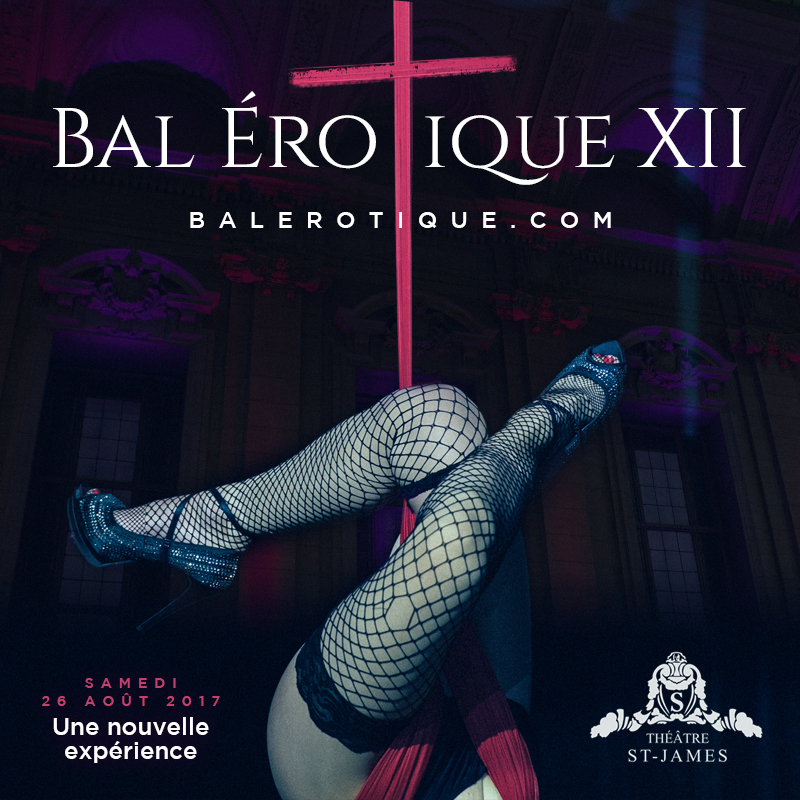 Monde Osé's BAL ÉROTIQUE XII, featuring; 
MYSTERY 
x
NEW LUXURIOUS VENUE
x
MULTIPLE PLAY ROOMS
x
AN INTIMATE & SENSUAL ENVIRONMENT
x
A MORE INTERACTIVE AND EXCLUSIVE EXPERIENCE  
x
Erotic art at its finest! 

$75 PRESALE TICKETS – SOLD OUT
April 8th – May 26th
$95 EARLY BIRD TICKETS 
May 27th – June 30th
$120 REGULAR TICKETS
July 1st – August 25th
$135 DAY OF THE EVENT
August 26th
$150 AT THE DOOR
Early-Bird Tickets available NOW.

Bal Érotique…
Our event has become synonymous with captivating and sexy theatrical entertainment. Like entering a world of fantasy or film. A place that dares you to explore the erotic aspect of your life, in the company of beautiful, fun, like-minded people. For exceptional people: nonconformists and liberated souls who dare to seek spiritual enlightenment and sexual empowerment.
Lifestyle entertainment we call it! Where each member of the community become a prominent character in the making of an absolutely unique sensorial experience that is sexy, uninhibited, and always respectful.
Designed with the absolute best in music, visuals, opulent decor and performances that Montreal has to offer. You can expect to witness performances by some of the best or newest talents in the world of sensuality or eroticism.
On Saturday, August 26th, dare to dare.
More Information on Bal Érotique 
Monde Osé's Bal Érotique® is Canada's largest, most sophisticated yet provocative sexy event designed to celebrate eros and freedom of expression. Offering the best Montreal has to offer in music, live performances, art, and audience participation delivering a truly unique multi-sensorial experience.
Fact: Bal Érotique is the original event that uplifted Montreal's sensual entertainment industry in 2005! 
Bal Érotique XII
Saturday, August 26th, 2017
10 PM - 03 AM
St-James Theatre, 265 St Jacques
Montreal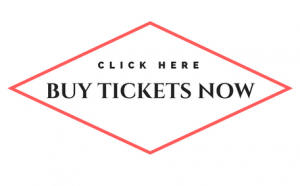 Monde Osé, xxx