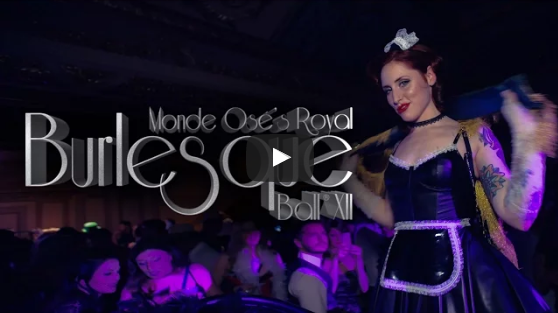 Royal Burlesque Ball XII | XCLUSIVE PHOTO ALBUM + HOT VIDEO RELEASE
Ladies & Gentlemen. The event video and exclusive photo album from our 12th edition of the Royal Burlesque Ball have been released, we're aroused for you to have a look! 
Remembering our sultry Saturday, March 18th, inside the pristine Rialto Theatre in Montreal…
A wonderful night of performances, costume play and seduction, where 600 of the sexiest, most audacious Montrealers came to dance for an extraordinary party vibe that was hot! hot! hot! to be s
aid the least. 
Without further ado, here's the recap. We'll leave you to it! xxx
Hoping everyone had an amazing time with us, allow us to say thank you. 

On behalf of our team and the badass babes that rock our shows, THANK YOU FOR YOUR LOYALTY AND LOVE!
You can relive highlights of the night NOW, by visiting our FACEBOOK PHOTO ALBUM for a curated selection of pictures you can share with your friends. 
For a special look into our XCLUSIVE PHOTO ALBUM, revealing more intimate moments and body parts that were captured throughout the night… 
Ps, The Royal Burlesque Ball is coming to Quebec City on October 7th, at l'Impérial Bell; save the date. And tag your Monde Osé moments on Social Media #MondeOse #BurlesqueBall so we can keep in touch.
Until Next Time Montreal, remember to stay sexy and grounded, to drinks lots of water and to have mind blowing sex!
"WE DON`T JUST WATCH BURLESQUE, WE ARE BURLESQUE"


Monde Osé, xxx