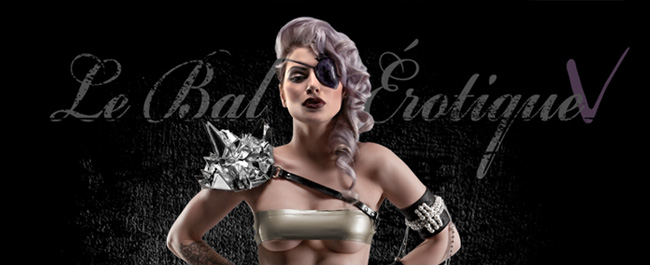 Saturday, August 21, 2010 – Bal Érotique V – Apocalypse
It is an honor to announce this year's 5th anniversary of Bal Erotique. A labor of love and sensuality.
This year we explore the doomsday theories of 2012 predicted by the Mayans. Who would you be with? What would you wear? and How would you party? The questions that face you before the BAL EROTIQUE APOCALYPSE:
—
When: Saturday, Aug 21 2010
Where: Theatre Telus (on st denis corner ste cat)
Why: To celebrate the magic of free thought, love and sensuality.
With: DANNY TORRENCE, LUKE NATIVE, AND TONS OF MONDE OSE ENTERTAINMENT.
[English Below]
La Terre est ravagée par l'humanité.
La surconsommation, le matérialisme, l'égoïsme et l'avarice on saccagé notre planète. La Terre s'apprête à livrer son combat final contre l'humanité.
Les Mayas l'avaient prédit, l'Apocalypse est inévitable!
Humains, vous devez choisir! Suite à ce désastre, quel sera votre destin?
Êtes-vous libre d'esprit, illuminé, spirituel et ouvert à toutes les possibilités?
Ou êtes-vous partisan des systèmes oppressifs de notre société?
Les systèmes religieux, politiques et économiques ont le mandat de contrôler vos agissements.
Pourrez-vous transcender cette apocalypse et vous retrouver au lendemain?
Soyez des nôtres au Bal Érotique V, où se rassembleront les illuminés pour célébrer la magie de la liberté d'esprit, de l'amour et de la sensualité.
Ensemble nous rejoindrons l'âme de notre planète, de notre univers, afin de transcender l'Apocalypse et de poursuivre la voie de notre libération.
——————————————————————————————–
Earth is under siege by humanity.
Over consumption, materialism, ego and greed have consumed our planet and forced Earth to take its final stand against humanity.
The Mayans predicted it, and the Apocalypse is inevitable!
You must now choose a side! After the moment of cataclysmic disaster, what will be your destiny?
Are you a free thinker, enlightened, spiritual and open to all possibilities?
Or are you part of the repressive systems of society?
Religion, Politics, Economics, all systems built to control your behavior.
Will you transcend this apocalypse and find yourself on the other side?
Join us at Bal Erotique V where the enlightened come together to celebrate the magic of free thought, love and sensuality.
Together we stand in spiritual unison with our planet and universe to transcend this Apocalypse and set forth our path to enlightenment.
Tickets Available at:
Bolero: 6842 rue St-Hubert (514) 270-6065
Boutique Seduction: 5220, boul. Metropolitain Est (514) 593-1169
Boutique Romance: 723 Mont-Royal Est (514) 522-6969
Boutique Romance: 1821, rue Sainte-Catherine O. (514) 937-3678
Priape: 1311, Ste-Catherine Est (514) 521-8451
SPONSORS:
THANK YOU TO ALL OUR SPONSORS OF WHICH THIS PROJECT WOULD BE IMPOSSIBLE WITHOUT…THANK YOU FOR BEING VISIONARIES AND TRUSTING US WITH YOUR BRANDS!
GOLD – Priape / Seduction / Polymorphe
SILVER – Il Bolero / Shunga / Desire Resorts / Salon de l'amour et seduction
BRONZE – Stephane Legros Hair Designer / Funky Dragon
SUPPORTERS – House of Vile / Trashed / Athanore