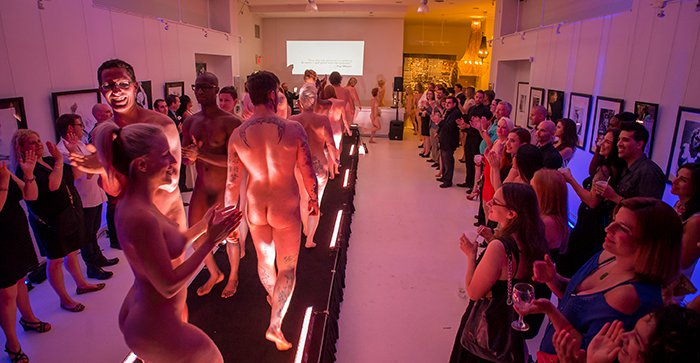 Sex Education Is Hot Topic At Naked Fashion Show Fundraiser
FOR IMMEDIATE RELEASE
Sex Education Is Hot Topic At Naked Fashion Show Fundraiser
September 29, 2015, Montreal – A night of naked fashion promises to raise funds and awareness about body image and Sexual Education in Quebec high schools.
 For the second year, the Sexual Health Network of Quebec (SHNQ) will be hosting Stripped, a Naked Fashion Show Fundraiser.  Fifty "models" have already volunteered to go nude, many of them participants in last year's show.  The group of models include men and women of diverse ages, backgrounds, shapes and sizes.
Among the nude models is Gemini award-winning Quebec actor, Stéphane Crête, best known for his roles as Brad Spitfire on the Le Canal Famille television show Dans une galaxie pres de chez-vous and Jacques Préfontaine on the Télévision de Radio-Canada miniseries Les Étoiles filantes.  Crête will also be presenting a keynote speech at Stripped about the importance of Sexual Health Education.
The goal of Stripped 2014 was to raise awareness about the lack of consistent Sexual Health programs available in Quebec public high schools.  The funds raised at Stripped 2015 will enable SHNQ to continue to provide free Sexual Health sessions in high schools, with funds also being allocated to making SHNQ's services and specialized trainings available to all teachers who are part of the Sex Ed pilot project recently announced by Quebec's Ministry of Education.
"There has been a lot of talk about a Sex Ed pilot project," says SHNQ President and host of CJAD's Passion, Dr. Laurie Betito, "but a lack of clarity about the specifics of the curriculum, and how the teachers will be properly trained to deal with sensitive topics."  The SHNQ wishes to maintain an open dialogue with the Ministry to potentially contribute to the content taught to students, and step in to offer free Sexual Health courses for the schools that are not included in the pilot project.  "Sex Ed must incorporate critical topics like consent, readiness, body image, self-esteem and other pressing issues beyond STIs and unwanted pregnancy," adds Dr. Betito.
The SHNQ invites the media to attend and join in the conversation of asking government policy makers to address the need to build comprehensive Sexual Health programs for all schools that will help Quebec teens improve their self-esteem, and their personal and social development.
Stripped takes place at 7 PM on Thursday, October 1st at The Théâtre St. James, located at 265 St-Jacques Ouest in Montreal, and will include an open bar, sweet table, gift bags, as well as an auction and raffle featuring products and services from local and international artists and businesses.
For a press pass, event tickets or more information about Stripped, visit http://shnq.ca.
Media RSVP contact:
Lisa Segal
Director of Communications
The Sexual Health Network of Quebec
(514) 825-2554
The Sexual Health Network of Quebec (SHNQ) is a registered charity that is affiliated with Action Canada for Sexual Health and Rights. The SHNQ strives to advance sexual health through public education and awareness campaigns, the development of programs and services in Quebec, and the promotion of sexual education, with liaisons to local, regional, national and international organizations.