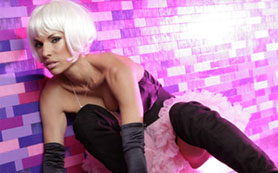 Spotlight on DJ ELLE
The Reincarnation event has a lot of meaning for the Monde Osé brand, the events, and the people that stand by it. In a nutshell, it is a renewal of our core values, and our mission. With this Reincarnation comes a new wave of excitement. It is the first step towards a whole new generation of sexy entertainment coming out of Monde Osé. For those who are interested in the developments, you will have to take each step with us on our journey, and allow it all to unravel as it may. One thing is for certain, at Reincarnation, you will be at the RE-birth of a movement!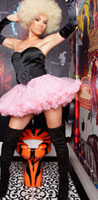 It is with extreme pleasure and excitement that DJ ELLE joins us as our musical guide on this re-invigorated path. I first encountered DJ ELLE at Eclipse Nightclub during their very popular monthly parties. Alain, the manager, was nice enough to introduce her to me (for those of you who know a bit of our history, you can appreciate the significance of this situation in of itself and how it compliments our theme ).
In my opinion, DJ ELLE is ray of light in our city and industry. A stylish female DJ whose music is uplifting, sexy, and has a constant dose of invigoration! Basically, she gets the room moving, and looks FUCKING GOOD doing it!
With that I introduce to you, DJ ELLE:

An intense passion for music and the desire to share that passion with everyone as led to the birth of ELLE.
After numerous trips around the world, listening to several renowned international DJs, ELLE has found her voice and calling with an original and unique sound in Vocal Progressive House.
ELLE first broke ground at Wunderbar inside the flagship W Hotel in Montreal, Canada, alongside her friend and partner Donald Lauture
ELLE took her music passion on an international level: in 2009, she was a guest DJ in Dubai for the "Girls do it better" event and was one of the official "Formula 1 Abu-Dhabi Grand Prix Official After-Party"' DJs.
Alongside Donald Lauture, ELLE was the "First Ever Female DJ" to play in Haiti for a promotional group that has since followed up with international DJs such as Cedric Gervais, Steve Angello and Yves Larock to name a few.
2010 is even more eventful for ELLE as she is already scheduled for events in Dubai, Syria, Morocco, West Indies and more.
ELLE's career took off rapidly but unlike others, her hard work, dedication and her strong will and passion to always do better, and play fresh new sounds, will ensure that her name will be around for a very long time!