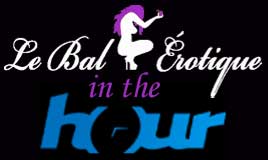 V for Vixen discusses Le Bal Erotique
V for Vixen
Laura Roberts – Hour Magazine
lroberts@hour.ca
Bal Érotique: Where dreams might just come true
Have an erotic ball
With summer now two-thirds over (where does the time go?), the moment has come to pull out your bucket list and start crossing things off. Before we bury the summer of 2009, what will you wish you'd done with the (occasionally) warm weather? And what will you do with the precious time you've got left?
I have one wild and crazy suggestion that could kick that list up a notch: You could attend this year's Bal Érotique and make some of your sexiest dreams come true.
This year marks the fourth anniversary of the Bal Érotique, brought to you by the sensuous people at Monde Osé. Originally designed as a one-year anniversary event for the patrons of Monde Osé's private parties, the ball evolved to be a little less exclusive when founder Frank Mondeose decided to open it up to the public and let all of Montreal experience his take on sexuality and sensuality. Of course, the public embraced this opportunity to party, as Montrealers do, and Monde Osé is now an annual event.
Each year the ball offers a different theme for participants to use as a springboard for their own erotic imaginations. Attendees should come in costume for this year's theme, "Sweet Dreams" (any kind of lingerie, pyjamas or Hugh Hefner-esque smoking jackets are acceptable), and imagine themselves as characters in the performance that will be going on all around them.
"It's a participatory experience, not just a show to sit back and watch," Mondeose says. "We bring the circus, but it's up to you to decide how you'll interact with
us."
Sensual soirée
The emphasis here is on taking sensuality out of the dungeons and basements and into the mainstream. After all, why shouldn't sexy, open-minded people get to party in the best clubs Montreal has to offer? Mondeose demands to know why the kinky should be satisfied with living out their fantasies in dingy, underground clubs when they can let their freak flags fly at the Bal Érotique, surrounded by quality people in a luxurious environment.
Mondeose's goal is to make the ball both sensual and fun for everyone and insists upon an atmosphere of respect at all of his parties (an important part of this positive atmosphere involves keeping Captain Creepy types away). To this end, attendees are required to dress up, making an effort beyond jeans and T-shirts to indicate their comprehension of the rules. Photos will only be permitted amongst friends, and there will be a professional photographer on hand to capture the night on film. Those who are abusing their photo privileges or otherwise harassing the guests will be asked to leave. No sexual activity is permitted on the premises, though anything else is open to interpretation.
"It's not a swingers' club," Mondeose points out, "but you can certainly choose to go to one afterwards."
Vive la difference!
With a variety of deep, sensual house music from DJs Jeff Fontaine and Lucie Lebel, plus live music from Luke Native, the ball is a great place to get your groove on. If you're more the visual type, be sure to check out burlesque performances by Montreal's neo-burlesque revivalist Scarlett James, plus lots of scenes throughout the night by local performance artists Maiko Star, MiMi Cherry, Roza, Madria and Zia Rucknutz. And let's not forget all the lovely ladies and gents you'll find dressed in their underwear, providing plenty of eye candy! Part burlesque, part fetish ball, part public lingerie party, there's a little bit of something for everyone.
Tickets are $45 per person, and even with the cost of a costume factored in, that's pretty cheap for a night of fun, frivolity and fetish. Mondeose notes that many of his guests view the ball as their own personal New Year's Eve party, and go to great lengths to plan their costumes and characters for the evening. "The ball only happens once a year, so people really get creative," he says.
Additionally, the ball brings together people from many different sexual backgrounds. Whether you're gay, lesbian, straight, bisexual, transgender, kinky, fetish, swinger or anything in between, this is a night to embrace and express your sensual side in whatever way you choose. As Mondeose puts it: "Drop all the labels. We're all humans, so let's celebrate together!"
Bring out your positive sexual energy, live your fantasies and meet new people at the fourth annual Bal Érotique on Friday, Aug. 14, at Club Opera (32 Ste-Catherine W.). Doors open at 9 p.m. and the show will be underway by 10:30 p.m., so don't be late! For more of Monde Osé, check out their Love Sundays dance parties at Terrasses Bonsecours in the Old Port, every Sunday this summer, starting at 1 p.m.