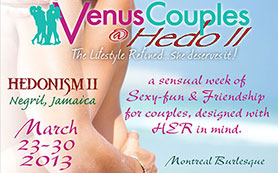 Venuscouples.com Vacation at Hedonism II – March 23-30, 2013
Please Note: English follows BELOW:
L'échangisme version raffinée, enfin….comme elle le mérite!
Joignez-vous à Carol et David de VenusCouples.com pour une semaine en Jamaïque où l'amour et l'ouverture d'esprit sont au rendez-vous. Amusez-vous sur la plage, dans la piscine et le jacuzzi, la piste de danse … et bien plussss!
Cet événement de VenusCouples, sera des plus sexys, érotiques et chics. Joignez-vous à nous pour expérimenter par vous-même.
Nous comprenons l'importance de vacances pour couples ouverts. C'est l'occasion idéale où les couples peuvent explorer leurs fantasmes et aussi repousser les limites de leur sexualité dans un environnement sexy, amusant et confortable. Le but ultime est de bâtir une relation plus forte et plus épanouïe.
VenusCouples.com : le seul réseau social réservé aux couples ouverts…sans contenu pornographique. Il est conçu pour la femme dans le couple pour créer une expérience en- ligne agréable.
Entièrement conçu en pensant à elle, ce séjour érotique la fera sentir comme une déesse. Vous passerez une semaine d'expériences sensuelles et passionnées!
* Participez à un atelier sexy et érotique, par Jessica O'Reilly, sexologue, auteure et animatrice de SWING sur le réseau Playboy.
* Apprenez l'art du strip-tease sensuel et de la danse burlesque, enseigné par l'une des meilleure artiste Burlesque de Montréal.
* Redonnez vie à vos sens avec des cours tantriques.
* Gâtez votre femme avec « Les Boys »…ooolala ! Et profiter d'une journée de folie sur une croisière en catamaran.

Tout cela et bien plussss pour un seul prix!

Joignez-vous maintenant à VenusCouples.com puis venez voyager avec nous pour célébrer votre amour et passion de couple!
A partir de 164$/nuit par personne.
Réservez avec Char Travel maintenant et vous recevrez une adhésion d'un an gratuitement sur www.VenusCouples.com . Pour plus d'informations, s.v.p. contactez Char Travel à info@chartravel.com.
==============================================================================
The Lifestyle Refined…She deserves it!
Join Carol & David of VenusCouples.com as your hosts for a week of Sexy-fun & Friendship on the beach, in the pool and hot tub, on the dance floor…well you get the idea.
This signature event, just like the VenusCouples community, will be Sexy, Erotic and Classy, come see for yourself.
We understand the importance of lifestyle vacations, letting couples explore their fantasies in a place where they can push the boundaries of their sexuality in a sexy, fun and comfortable environment with the ultimate goal of building a stronger and more fulfilling relationship.
VenusCouples.com is a sexy social network for couples in the lifestyle, it is discreet, upscale, and for couples-only, designed for the woman in the relationship. It is seductive and provocative without the porn; creating a comfortable overall experience.
This special vacation is designed for the couple but with her in mind. In addition to sexy parties at the pool and on the beach, you will experience a passionate week of sensual activities that will make her feel like a Goddess!
* Sexperience the ultimate hands-on sexy workshops hosted in person by Jessica O'Reilly, Sexologist, author and host of Playboy SWING.
* Learn the sultry art of strip tease and burlesque, given by our one of kind Montreal Burlesque performers.
* Revive your senses with Tantric Awakening classes that will stimulate and tantalize her.
* Treat her to the sexiest Male Review and let her loose on our Bare-it-all boat cruise.
All that and so much mmmmore all wrapped up in an all-inclusive price!
Join us now at VenusCouples.com and then come travel with us and celebrate your love and passion!
Starting @ $164 per night per person.
Book you trip now with Char Travel and you will receive a 1 year FREE VenusCouples membership. To join us for this amazing sexperience and adventure and for more information, please contact Char Travel at info@chartravel.com