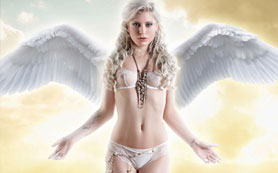 What to expect from Reincarnation
Hello All.
I would like to take a small moment to tell you a bit about our next event: REINCARNATION
At this party, we are going back to our roots. Most of you have never experienced a Monde Osé party in it's early stages, when it was solely about sensuality, love, and sexual energy.
This is what we want to infuse into our next event.
Here are a couple of things you can do to get excited for this event:
Watch this video and get inspired.   http://www.youtube.com/watch?v=L53gjP-TtGE .
Surf the net and get inspired by gods and goddesses, angels and anything else that represents sensuality, love, and positive sexual energy!
Get creative and make yourselves some sexy outfits that represent your higher self. Make it sexy, alluring, teasing, flowy, sensual and classy.
Help us promote the party, by telling your friends, and posting the event to your facebook page.
Come to the party with your best energy. We want this event to feel like a Tantric love party, filled with amazing positive sexual energy.
On a personal note, I am committed to not working at REINCARNATION, and partying with you, our valued guests, like I used to in the old days. The only thing that matters for this upcoming event is: sexy people, sexy dancing, and being naughty!
In addition, we are very excited to be introducing to you, our lovely new DJ, DJ ELLE, who I am SURE will rock the house. (More about the DJ next week when we do a SPOTLIGHT on DJ ELLE. Don`t miss it.)
Finally, for those of you who haven`t visited Karma Club in a while, it is newly renovated just in time for REINCARNATION, and it has one of the better sound systems in Montreal designed by the legendary Angel Moraes.
Don`t miss this event. It promises to be impactful!
Oh, and I will be going around with free drinks all night for the most ULTRA SEXY PEOPLE. Good luck!
For those who would like to reserve a booth for bottle service, please email me at frank@mondeose.com
Peace, love and sensuality,
Frank Mondeose
Friday October 22nd, 2010
10pm – 3am
Karma Nightclub
4467 St Laurent
Ticket prices:
Pre-sale: $35 + Tax & Service
Door: $50
Tickets on sale at the following locations:
Il Bolero, 6846, St Hubert
Image In, 34 Mont Royale E
Priape, 1311 St. Catherine Est
Event sponsors: