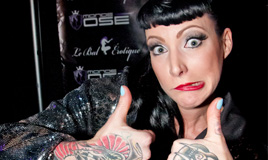 ROZA – Behind the scenes at the Montreal Sex Show
Now that the Burlesque Ball VI is over, I am taking some time to catch up from my whirl wind of 2011 so far. In the next week, you will have 7 new photo galleries on mondeose.com from the Everything to do with Sex show tour, as well as other events, including the Burlesque Ball.
In going through these pictures, I came across a SWEET little collection of HILARIOUS photos. You see, at Monde Osé, we love to have fun, and we don`t always take ourselves so seriously. No one captures our rock and roll, bad ass, good times vibes such as one of Monde Osé`s wildest chick – ROZA.
Check out this small collection of photos, as ROZA takes you on a tour of the Everything to do with Sex Show, as ONLY ROZA CAN.
Thank you ROZA for putting a smile on our faces. We love you!
Enjoy!
xxxx
Frank
Photos by: Jo Gorsky
| | |
| --- | --- |
| This is ROZA. Get ready for a ride! | Teeth whitening. |
| | |
| | |
| --- | --- |
| What do you have there ROZA? | |
| | |
| | |
| --- | --- |
| ROZA'S PENIS MACHINE! | |
| | |
| | |
| --- | --- |
| Ahhhh….ok! | |
| | |
| | |
| --- | --- |
| First time i have seen ROZA "in love" ! | Penis Envy? |
| | |
| | |
| --- | --- |
| Hello? Depanneur. | El TORO! |
| | |
| | |
| --- | --- |
| No words – Just crazy/gorgeous! | Whole new meaning to Kegal Exercise! |
| | |
| | |
| --- | --- |
| Good girl. Making sure all is in order. Thanks for all the GREAT WORK girlfriend! xxxx with love! | |
| | |