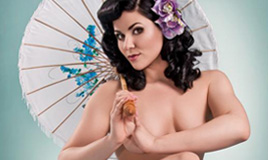 À souligner sur la scène principale: Salon de l'Amour le 22-24 janvier
À souligner sur la scène principale…Horaire Scène Principale
Maîtres de l'exotisme
Tous les hommes ne sont pas égaux. La formation Mr. Exotika Male Review est une troupe de danseurs et saltimbanques aux corps parfaitement ciselés dont les danses charismatiques et énergiques vous réjouiront par leur désinvolture. Leurs corps sculptés et luisants requièrent toute votre attention.

Défilé de mode Péché Mignon
Un « péché mignon » illustre cet état durant lequel le plaisir prend le dessus sur la raison et la morale. Abandonnez-vous volontiers à ce « péché mignon ». Laissez-vous enivrer par ce défilé qui vous procurera de fortes sensations en vous transportant dans un état d'esprit que tout inconditionnel de sensualité a le goût de ressentir !
Mettant en vedette Jessica Lablanche, pin-up internationale et mannequin pour Coquette
Direction artistique: Mlle C
Le cabaret Mondé Osé
Le cabaret Mondé OséUn collectif d'artistes de la scène indépendants et séduisants se rassemblent sous une bannière promouvant l'ouverture à la sensualité et à l'érotisme. Le cabaret Monde Osé vous transportera au coeur de la sensualité grâce à ses actes multidisciplinaires dont le but ultime est de séduire l'audience avec des prestations artistiques de haut niveau, élégantes et provocantes.
Cette année le spectacle, qui s'intitule La mariée en fuite, raconte l'histoire d'une jeune femme qui, à deux pas de sa marche nuptiale, a des visions sur fond de tentation, de jalousie et de séduction. Que fera-t-elle?
Mettant en vedette :
Roxi Dlite
Artiste burlesque internationale no. 1 au Canada et gagnante à deux reprises du prix Golden Pastie au festival burlesque de New York, Roxi est la première finaliste du concours Miss Exotic World's 2009. Elle est la princesse qui règne sur le trône burlesque et elle saura vous hypnotiser avec sa prestation aérienne époustouflante, sa griffe.
MiMi Cherry Cette sirène du fétichisme peut à elle seule faire grimper la température d'une pièce. Connue pour enchanter les hommes comme les femmes, Mimi Cherry utilise innocemment son charme français pour vous entraîner dans son monde et lorsqu'elle vous tient, elle vous ouvre les portes de son univers pervers. Sa prestation a été une révélation du Bal Érotique 2009 où elle a laissé l'audience suspendue à ses lèvres.
Alternative Fitness
Maiko Starr est actuellement l'artiste éminente de la danse acrobatique sur barre verticale. Son école, Alternative Fitness, est la seule qui offre des cours de danse sur une barre verticale, enseignant l'art d'être sexy à la barre tout en repoussant certaines limites par le biais d'acrobaties géniales. Maiko se retrouvera sur scène avec deux de ses étudiantes pour une prestation riche en émotions où la danse sur barre verticale est mise à l'honneur!

Jessy Entertainement
Oeuvrant dans l'industrie du spectacle depuis plus de 10 ans, la meneuse de cette troupe de danse est à la fois chorégraphe et danseuse reconnue qui a participé a plusieurs productions d'envergure nationale et internationale : DanseSing, Cabaret, La Fureur et plusieurs autres. Mettant en scène des chorégraphies dignes des vidéoclips modernes en vogue, Jessy Entertainement repousse les limites avec ses prestations où le sex-appeal figure au premier rang.

————————–

Main Stage Entertainment Highlights…Main Stage Entertainment Schedule
Mr. Exotika Male Revue
All men are NOT created equally. The Mr. Exotika Male Review is a group of dancers and entertainers with perfectly chiselled bodies, and dance with charisma, an abundance of energy and with a playful attitude. Do not miss their sculpted and glistening bodies that instantly command attention.

Guilty Pleasures Fashion Show
"Guilty pleasures" illustrates the state where certain sinful pleasures can take over all reasoning and morals. Abandon yourself to these sweet sins and let yourself be enchanted by the beauty of this fashion show. Give into temptation and let your senses guide you as this show promises to create hot sensations and sweet vibrations.Featuring International Pin-Up Model and Coquette Cover Girl: Jessica Lablanche
Artistic direction: Mlle C

The Monde Osé Cabaret
A collective of seductive, independent, performance artists that have come together under a banner that promotes positive and open attitudes towards sexuality and eroticism. The Monde Osé Cabaret will take you on a journey of sensuality through multi-disciplinary variety acts whose goal is to seduce their audience through high end, classy, yet provocative erotic performance art.
This year's show, entitled "Runaway bride", is a story of a young girl who finds herself visualizing temptation, jealousy and seduction, all as she gets ready to walk down the aisle. What will she do?
Featuring:

Roxi Dlite
Canada's #1 international burlesque performer, two time Golden Pastie Award Winner at the New York Burlesque Festival and this year's Miss Exotic World's 2009 1st runner up. Roxi is Canada's Reigning Princess of Burlesque and will mesmerize her audience with her jaw-dropping aerial act that has since become her signature show.
MiMi Cherry
This fetish pinup siren can single handedly lift the temperature of a room. Known to seduce and enchant men and women alike, MiMi Cherry uses her innocent French charm to lure you into her world, and once in her grasps, opens you up to a world of kinky play. MiMi Cherry's breakout performance occurred at the 2009 edition of Le Bal Erotique leaving her audience mesmerized and wanting more.

Alternative Fitness
Maiko Starr is currently the leading "extreme" acrobatic pole dancer, and her school, Alternative Fitness, is the only pole dance school in Montreal that not only teaches their students how to be sexy on a pole, but how to push their limits with cool acrobatic tricks. Maiko is joined on stage by two of her students for an intense display of emotion and Alternative Fitness style pole dancing!
Jessy Entertainement
In show business for over 10 years, the leader of this dance troupe, Jessy Gauthier, is a renowned choreographer and dancer, having participated in many local and international productions such as: DanseSing, Cabaret, La Fureur and many more. Featuring choreographies that could be seen in the most modern and hyped music videos, Jessy Entertainment pushes all limits with sex-appeal being center stage.