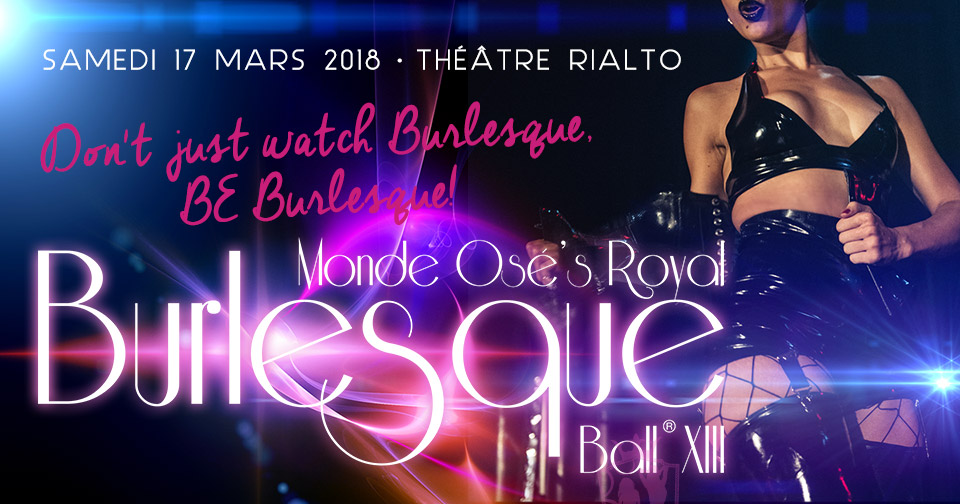 Burlesque Ball 2018 – Pre-sale tickets available!
Dare sensuality, seduction, provocation! Be BURLESQUE!
Saturday March 17, 2018, at the highly acclaimed Rialto Theatre in Montreal, Monde Osé welcomes you to the 13th edition of the Royal Burlesque Ball.
Be part of a delicious blend of audacity, glamour, elegance and eroticism evening. The Burlesque Ball® is Monde Osé's annual celebration of beauty, diversity, and sensual femininity.
It is Montreal's most extravagant event of the year, featuring theatrical tease performances by local and international queens of burlesque.
Royal Burlesque Ball XIII
Saturday March 17, 2018 – 9pm- 3am
Rialto Theatre – 5723 Park Avenue, Montreal, QC H2V 4G9
Until December 21st 2017
150 tickets available
$55 EARLY-BIRD TICKETS
From December 22nd 2017 to February 15th 2018
150 tickets available
$65 REGULAR TICKETS
From February 15th to March 16th 2018
$75 DAY OF EVENT
If availabilities
PRESALE TICKETS AVAILABLE HERE: https://www.tix123.com/tix123/etic.cfm?code=MOBB2018