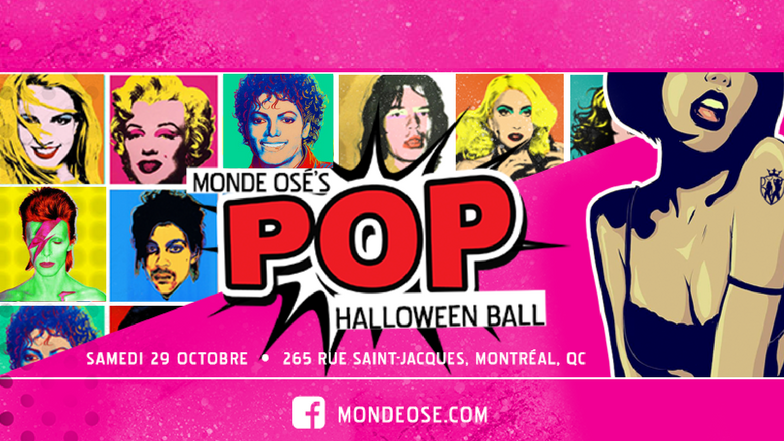 Halloween | Official Schedule of the Night + Last Call 50$ Tickets
So here we are, Hallow's eve. Don't know about you guys, but we are deep down thrilled for our pop production unwrapping tonight, and can hardly contain ourselves. Oh! The joy. 
That's it. Our team has fine-tuned every detail of our program so you can experience a theatrical work of pop, like entering a world of fantasy or Andy Warhol film.
TRUTH. Monde Osé parties create unique environments for people to meet, flirt, dance and connect in a setting that is sexy, uninhibited, playful and respectful always.
On this note, here's the Monde Osé Halloween Ball madness you can expect as early as you penetrate the doors of the ever gracious St-James Theatre in the Old Port.
Into our pop playground, that will surely bedazzle you in many ways.
C o n s i d e r yourselves w a r n e d. 
10 PM
Welcome. Grab a drink, or three, and allow yourself to unwind. You've had a busy week! 
Get comfortable amongst your iconic celebrity acolytes and neighboring pop stars, we are all here for the same reasons right, to boogie. 
Roam the factory, it's kinks and corners, and check out some fantastic local art presented by the Montreal artists behind the…
POP-ART EXHIBIT
ROXY PEROXYDE
EVEY.LP
ABDALA KAUFMANN
Flirt and dance, allow your senses to guide you into the night and admire the beauty that fills the room…
VIDEO PROJECTIONS
VJ BXL, a.k.a Khalil, Speakeasy Electroswing
LIVE ART 
CEDRIC TAILLON, Decover Magazine
If you aren't feeling amazing by then, stay tuned for the outstanding and sexy…
BURLESQUE PERFORMANCES
11 PM
COEUR DE LYON
12 AM
TRISTAN GINGER
+
NUDE ART 
BERNARD ROCHON
Aroused and ready for more…
01 AM
LES JUMELLES
All the while grooving to your favorite…
POP MUSIC
SHUG'ərTWINZ; featuring
DJ STEVEN CAICEDO from Proton Radio NYC
& DJ RECOVRGrl
a l l l night long!

« Behold a special night of curated gems across the universe of POP; from the old to the new, the sweet to the spicy, but always quintessentially sassy & sensual. »
Until…
03 AM.
Did we mention…
LAST CALL FOR 50$ TICKETS! 
That's right. The ticket price will go up +10 AT THE DOOR (10 PM) so

BOOK NOW

to reserve a decent spot. 
REMINDER! To reserve a VIP lounge area with bottle service, 




write to us at info@mondeose.com 
And remember to fearless. Halloween only comes around once a year and life is precious, let's make it count! 
Follow our Facebook page. 
And read more about the featured artists of the night
HERE
.



Our Halloween Ball rated amongst 
« THE TOP Halloween Balls in Montreal »
Montreal TV | http://www.montreal.tv/2016/10/les-3-bals-dhalloween-les-plus-sexy-a-montreal/
BandMark | http://www.bandmark.com/bandmarks-halloween-destinations-top-5-514/  
Day Jobs NightLife | http://www.dayjobsnightlife.com/blogs/halloween-party-scene/ 
LexiSylver | http://www.lexisylver.com/blog/2016/10/25/the-sexiest-halloween-party-in-town-monde-oses-pop-ball/
MTLBlog | http://www.mtlblog.com/2016/10/the-sexy-monde-ose-halloween-ball-in-montreal-you-gotta-attend/

xxx