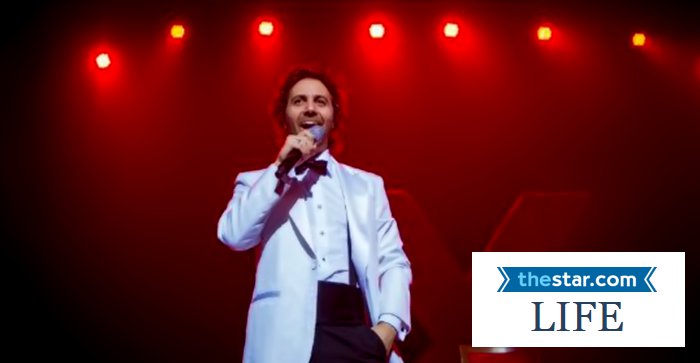 Montreal's "Spiritual Playboy" bringing "sensual" themed parties to Toronto
Don't call it a swingers party.
On Saturday, Frank Mondeose, a 38-year-old Montrealer who calls himself a "spiritual playboy," is bringing his popular-in-Montreal over-the-top themed parties to Toronto, with a burlesque event in Mississauga. Mondeose calls them elegant parties where couples and singles can flirt, seduce and celebrate their sensuality, but stops short of using the word "swingers." That's an outdated term, he says, and one that doesn't reflect the events' open, no-expectations atmosphere where sex isn't allowed, as is stated on their website.
But wherever you take the after party — and with whom — is your call.
The Star spoke with Mondeose, a stage name translating to "daring people, daring world" that is also the name of his business, Monde Ose, by phone from Montreal on Thursday.
What's happening Saturday?
It's a dance party, it's a celebration. We're celebrating the world of burlesque and femininity. You could go to a show and sit down and be a passive observer, a voyeur of entertainment, whereas the Monde Ose Burlesque Ball is about actually stepping into the show. So every individual is actually part of the experience. It's a way to dance in an open-minded atmosphere where it's not about judgment but more about celebration and joy.
What do you mean when you say everyone's "part of the experience"?
The idea is that burlesque is the theme for the event, meaning that everyone who comes to the event is encouraged to be inspired by the idea of burlesque. As a participant, you come and you dress up. Women are encouraged to be wearing layers, meaning that throughout the night as their inhibitions drop a bit, they too can be burlesque stars and let go of the extra layers. Men are invited to come as escorts and be dressed to the nines, whether it be tuxedos or shirts and slacks.
What's allowed at these events? Is nudity allowed?
This is an event in a public club, meaning that we always respect public decency. In terms of nudity, the burlesque performers will be disrobing down to their panties and pasties, but that is pretty much the limit of what is encouraged. It's about regaining comfort with the body.
Tell me about your business, Monde Ose.
We're here to promote love, sexuality and a healthy lifestyle through hosting various events. Our main business for the last 10 years has been bringing sexy entertainment to the mainstream. Before Monde Ose was around, if you were looking for a daring night out, you would either be going to a strip club or a swingers club. This is a way of celebrating one of the most sacred acts in our life, which is sexuality. I just wanted to make it more elegant, luxurious and acceptable to people who have a more refined taste.
What types of people do these events typically attract?
Our target market is couples. The party is an opportunity for couples to come, be in a sensually charged environment, doing something together. We do allow single men and single women. For single men, we do a screening process either online or at the door. Online, we ask them their motivation and for a reference. At the door, we explain what the event is about and explain our code of ethics. If we get a report from security, we take it very seriously.
I see online that sex isn't permitted at the events, but what do you mean by "party in a sensual way"?
You go to a regular nightclub, you see people making out, groping in the corner. They want to dominate, they're hunting. At our events, maybe you'll see people making out, touching, caressing, frolicking, but the difference is the energy. In a lifestyle club, the people who go there are more sensually mature. It's less of a hunger game and more of an exploration, sharing game. It's a more mature level of sexuality.
What motivated you to start this business?
I've always been intrigued by sensuality and sexuality. (When I started the business) I was married at the time and I wanted to be in an environment that was sensually stimulating — a place I could go with my wife and be in a sexy environment where we could connect openly without being in fear of judgment. I couldn't find anything. Monde Ose was created in the standards of my wife — luxury, not crass or in a basement of an ugly bar. For way too long, that's how sexuality has been portrayed — a bottom-feeding concept because we have so much shame fear and guilt around sexuality in our culture.
Toronto is that powerhouse Canadian city. We felt that Toronto needs to be our first move and where we can get momentum. How we will be received in Toronto is yet to be seen.
How's attendance looking?
We've sold 300 tickets. So it is very possible we will have approximately 400 people. I would be very satisfied with that, being that there's a whole education process we have to do still. In Montreal, I host two major events a year with 1,000 people each. It's still a niche market and the vision is to have the sexiest event in North America.
Do you feel like the difference in those numbers has anything to do with Toronto being a more sexually repressed city?
I would love to say yes but the answer is no. The numbers are reflective of feeding a new concept. I think within three years Toronto will be having similar numbers to Montreal.
Tickets for the Saturday event at The X Club in Mississauga are available online atwww.mondeose.com and at the door. Tickets cost $70 for couples, $100 for single men and $30 for single women.
This interview has been edited for clarity and length.