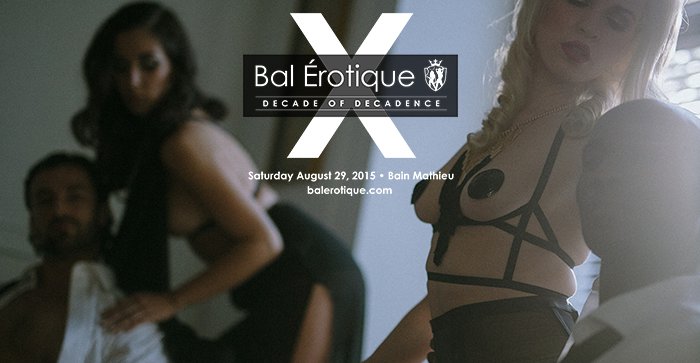 Official DJ Lineup for Bal Érotique X
On this day, August 5, 2005, Monde Osé hosted its first event to 120 very daring souls in a small club on de la Montagne street in downtown, Montreal. 10 years later, this event hosts over 2000 people per year.
An important part of the 10 year Monde Osé legacy is bringing our fans a special blend of sensual house music. At Bal Érotique X, we are very proud to present our all-star DJ lineup and the Monde Osé Music Collective, who will have you dancing in two rooms, creating two atmospheres, all in one legendary event!
Featured Lineup:
August 29th, 2015
Bain Mathieu
In the Deep End:
Omar Cito Perez
Pacha Recordings, Ibiza, Spain
http://www.soundcloud.com/omar-cito-perez
Opening (9pm – 11:30)
Steven Caicedo
Proton Radio, NYC
http://www.protonradio.com
In the Underground:
Rich&Kiss
House de musique
http://richandkiss.com
***Plus, a Special Live Musical Guest***
Are you ready for the next chapter in the story we call Monde Osé.
In the meantime, allow us to seduce you and allow your imagination run wild, as you listen to this very special Episode of Omar Cito Perez's Intentions, this month entitled: Dark Romantic, and dedicated to celebrating 10 years of Daring People, in a Daring World – Bal Érotique X
[soundcloud url="https://api.soundcloud.com/tracks/217568228″ params="auto_play=false&hide_related=false&show_comments=true&show_user=true&show_reposts=false&visual=true" width="100%" height="450″ iframe="true" /]