The Burlesque Ball's Royalty – Stage Entertainment Lineup
We are pleased to announce: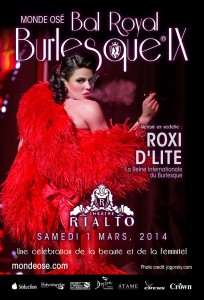 Roxi D'Lite – The Queen of Burlesque
Returning to the Monde Osé big stage for her 4th time, it is truly an honor to have a true Queen of Burlesque be part of the Monde Osé family.Roxi, is the "Bad Girl of Burlesque". Miss Exotic World 2010 and "The Drinkin', Smokin', Strippin' Machine".  She is one of the World's premier burlesque performers, rated in the "Top 10 Burlesque Performers" in the World, for the last 6 years running, by 21st Century Burlesque.This year she will present a show steeped in elegance, mystery and surprise. You don't want to miss her most impressive show yet!!!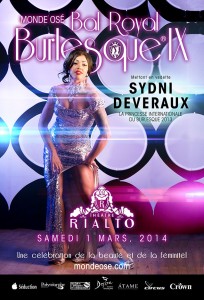 Sydni Deveraux – The 2013 Princess of Burlesque
Known as the "Golden Glamazon" with her beautiful alluring features, she stands a statuesque and very leggy 6'2″ and is the 2013 – 1st Runner Up for Queen at the Burlesque Hall of Fame Weekend, making her the current Reigning Princess of Burlesque.
She is also ranked in the top 50 burlesque performers of 2011, 2012 and 2013 as polled by the online magazine- 21st Century Burlesque.It is our absolute pleasure to introduce this amazing woman to Montreal and the incomparable Monde Osé. Let her leave you in awe!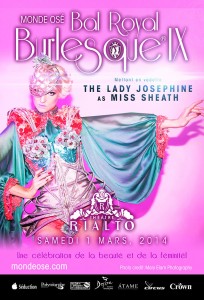 The Lady Josephine – Montreal's own, "Tall Glass of Badass!"
Montreal's hardest working burlesque performer, The Lady Josephine was named "Most Beautiful" at the Great Boston Burlesque Expo in 2011. She brings the magic of professional burlesque performance, and its inherent message of confidence and freedom, to the 4 corners of the continent as an international producer and performer in the world of theatrical striptease.On this evening, she will feature her most dangerous persona – Miss Sheath. Miss Sheath is Josephine's most recent and extravagant creation. She is a fencing mistress whose sensuality will take no prisoners. A fiercely feminine and highly innovative striptease performance, Miss Sheath is high-impact and explosive and will be sure to set the tone for this year ROYAL BURLESQUE BALL!The Lady Josephine is Frank Mondeose's choice for Montreal's Burlesque performer with the best chance to succeed our Burlesque Royalty! Come get a glimpse of her most creative and original act yet!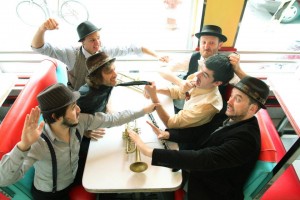 The Early Jazz Band
The Early Jazz Band brings together 6 talented young musicians who derive their repertoire from New Orleans circa 1920 and Swing from the 1930's and '40's and personally arrange the music with finesse and some light improvisation to give the most audacious results. Fresh off their Quebec jazz tour which included participation in some major festivals such as the International Jazz Festival of Montreal, le Festival Montréal en Lumières, le Festival International de Jazz de Québec and the Canadian Swing Championship; this group will lead you to forget all your worries and transport you in the festive spirit or the Golden 20's which will fill you with energy and have you dancing with wild abandon! The perfect way to get you warmed up for the Royal Burlesque Ball!
If you haven't done so already, get your tickets before Friday February 21st, and get your chance to win some amazing prizes.