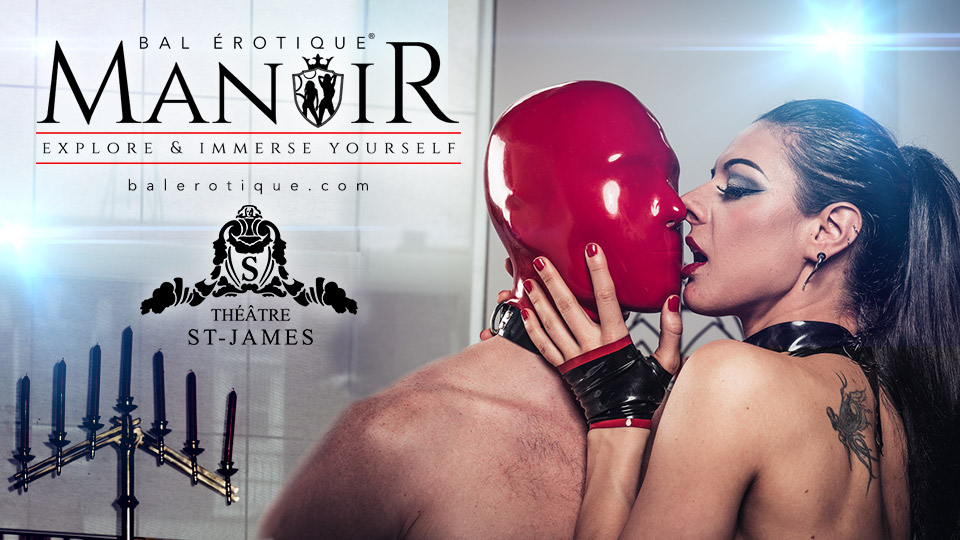 Bal Érotique XII | Presenting FEATURED PERFORMANCES inside MANOIR
Monde Osé ANNOUNCEMENT 


On Saturday, August 26th, 2017, at the luxurious St-James Theatre in Old Montreal. Get set to penetrate the doors of our seductive mansion party where you will travel a series of different rooms with different themes, to provoke the voyeur or the exhibitionist within you.
Are you ready and excited for this Montreal? 
 
 
LADIES & GENTLEMEN,
PRESENTING THE SEXY PERFORMANCES 




Inside Bal Érotique XII - MANOIR!  

THE MISTRESS MIMI SHOW
Legendary seductress, and object of desire; MiMi will ignite your passions and explore the dark side of your sensuality. If you play your cards right, you're in for an extra treat! 


SHOW DESCRIPTION
 
In a world of fantasies, goddesses are all around. Be submerged in the power of femininity as you enter the chamber of Mistress MiMi and feel the energy of her strength coursing through your body, mind, and soul. She will gracefully, but oh! so fiercely, lure you into a state of hypnotic bliss when she reveals her charm and her lustful demeanor.
Bringing true kinkiness to the stage, MiMi has a special surprise in store for our guests. 
BIOGRAPHY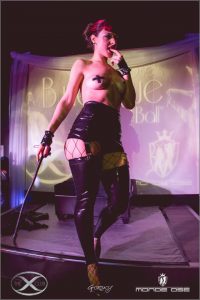 MiMi Cherry has been performing in the field of burlesque and fetish entertainment for the past 10 years. In that time she has traveled across the continent, wowing audiences from coast to coast in Canada and the U.S, performing in major cities including Vancouver, Toronto, New York, Los Angeles, and even getting hot in Jamaïca! Her unique talent and captivating charm have elevated her to share the stage with some of the most prestigious names in the industry.

Well known for her feminine allure and sensual curves, MiMi seduces audiences with lustful and naughty performances using her enticing body and tantalizing gaze as a means of enchantment.
With a style ranging from classy pin-up to fetish dominatrix, her versatile and artistic personality has led her to be a cover girl featured in many magazines.
"When the night falls, the mistresses of the house have me draw the curtains closed and lower the lights to welcome their guests into the darkest area of the Manoir…

Unlock the door to experience pleasures untold and have your kinkiest fantasies brought to life…
Ohhh! The things I have seen in these chambers…"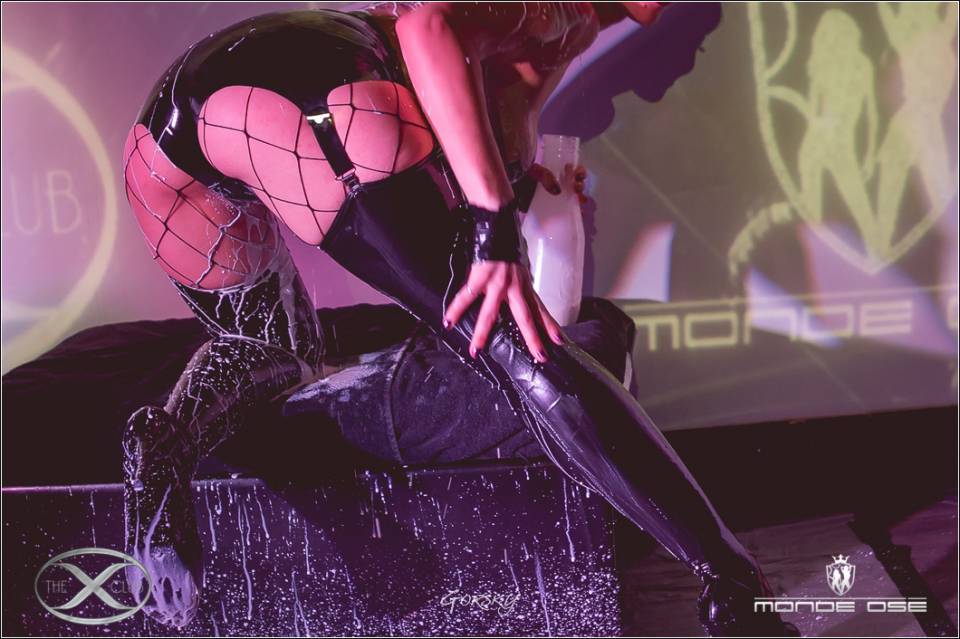 THE NURU PLAYGROUND SHOW
Nuru presents The Erotic Massage Redefined, where you will be able to watch live shows derived from the ancient Japanese art form of the massage, the nude-body on nude-body massage, a modern day treasure.

SHOW DESCRIPTION


Always dancing on the edge, Montreal's Nuru Massage is the first adult entertainment salon to pamper you with the full-bodied and tantalizing glide of the NURU Massage Gel. Watch closely as our naked goddesses slip and slide, tempt and tease you… sweet surrender.
We serve at the King's pleasure. This is your fantasy. Our playground. #DoYouNuru?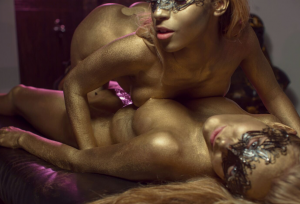 *Here you'll witness live demonstrations. If you're eager to indulge yourself or your partner in new areas of erotic exploration, she (or he!) will thrill you with a bold and devilish massage!
"Come see the difference and hold tight, I've witnessed people leave this room completely mesmerized…

Pssst. Secret between you and I. If you're lucky, you'll participate in one of the shows…"
THE EROTIC CABARET FINALE
Coeur de Lyon presents The Erotic Cabaret, a contemporary exhibit and sensual sideshow of avant-garde entertainment. Through dance, stripping, and poetry, her performing artists here evoke what excites them, without fear or embarrassment; they entertain with a shameless suspicion of impertinence!

SHOW DESCRIPTION 

After midnight in the Manoir, the carnal energy is palpable in every room and hidden corner, rising to an inevitable climax! The Erotic Cabaret will culminate into an explosive finale presentation that can only be anticipated as a sensual splash of erotic bliss by this daring troupe.

BIOGRAPHIES 
The Bunny, played by Bunny Valentin
Bunny is the cutest curly rabbit you will ever see. Follow him as he perpetually runs away from reality giving life to any fantasy, pieces of clothing or glimpses of flesh… White gloves and a cotton tail will slowly register inside your mind.
The Nympho, played by herself
Our nymphomaniac is a lovely perennial rose who just needs to florish, over and over and over again. She is the eternal present moment, the pure sensation, and the true need for pleasure! 
From the stiff lady to the submissive whore… the only thing she needs is your permission to give her more. 
Le pti Mec, played by Jane Charles
Is it a she or he? A he in a she or a she in a he? This one doesn't care for categories or boundaries, but craves to discover yours…
From a small playboy to a gracile doll, "they" will make you fall in love.
The Îcone, played by Coeur de Lyon
Round breast and large buttock, long legs and chin raised… the one whom you wished to spank, squeeze and bite… the one you wouldn't dare approach, but dream to profane. She is the holy îcone, from femme-fatal to femme-objet…
She is sulfurous, all curves and lusty. A true lioness with a big heart that will make you roarrr with desire! 
"At the Erotic Cabaret, the open mind evokes a world where sensuality is liberated and deconditioned…

 

From my experiences, people I've seen exposed to this type entertainement, of romanticism, role play, and forbidden fantasies; usualy question and seek what awakens their desires… All night long…"
Oh, wait. And there's

sooo

much more!
Be on the lookout for the special characters inside the house. Some will please, some will tease, and some will stamp your card if you interact with each other.
"Word is, guests who dare to interact and play with the characters as they move through the lavish rooms and chambers of the Manoir get their cards stamped…

Those who fill their cards with stamps gain special access to secret rooms and/or unlock special experiences…"
WARNING! TICKETS ARE SELLING OUT 
RESERVE YOURS NOW!



PS. PREMIUM TABLE SERVICE NOW AVAILABLE at only $480! Including either two 40oz bottles of regular alcohol or two 26oz bottles of premium alcohol, AND VIP table service for eight. (LIMITED quantities – first come, first served)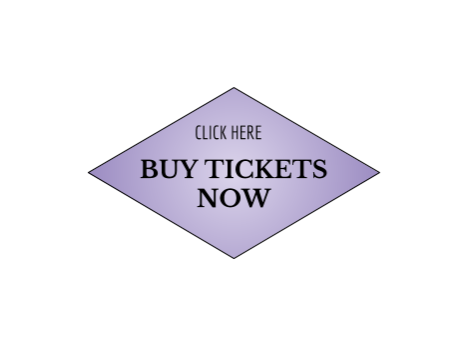 Extra! NEW POINTS OF SALE
Swing by any of these store locations in and around Montreal to pick up your Tickets and save on online fees.

PLUS! 
Sexy & Cie is offering our community free loyalty cards to anyone who has purchased a Bal Érotique XII ticket! 
This loyalty card entitles you to a 10% cash back on all your purchases —available on your next visit— and is valid for 1 year from the activation date. 
Note: you must present yourself at one of the store locations below with your Bal Érotique XII ticket or a proof of purchase online to receive the loyalty card.
More Information on Bal Érotique 
Monde Osé's Bal Érotique® is Canada's most sophisticated and provocative lingerie party designed to celebrate eros and freedom of expression. Offering the best Montreal has to offer in music, live performances, art, and audience participation delivering a truly unique multi-sensorial experience. www.balerotique.com
More to read on the blog
Bal Érotique XII | WIN SEXY GIVEAWAY
Bal Érotique XII | THE NOTORIOUS ROOMS REVEALED
Bal Érotique XII | DRESS CODE & STYLE INSPO
Bal Érotique XII | "MANOIR" CONCEPT EXPLAINED
Bal Érotique XII  | 2017 EVENT THEME ANNOUNCEMENT
Please confirm your presence on Facebook and share with your lovers.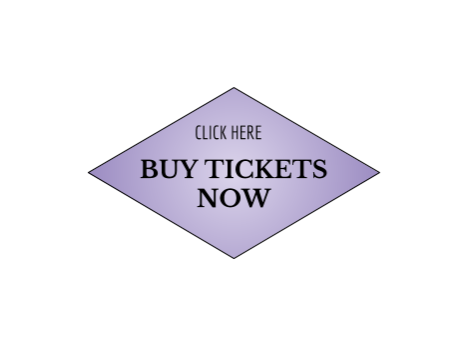 STILL TO COME! THE OFFICIAL EVENT SCHEDULE + BEST OF BAL ÉROTIQUE
MONDE OSÉ, XXX